Well-Known Member
Staff member
Administrator
Jun 3, 2015
532
1,611
214



Start by downloading the Smart IPTV App from the store.
Please note: The App offers you a 7-day free app trial.
After the App expires, you can purchase it (one time) via in-App microtransaction or visit the website.

When opening the app you will see your TV MAC address - Write it down to prepare for the next step.




!!! Warning !!! your device has two mac addresses one for the wifi connection and one for the cable connection.



Open the Smart IPTV website https://siptv.app/mylist/.
Place your TV MAC address and the M3U URL you received from your IPTV Reseller/Provider,
and press "Send". (use m3u with options)


After uploading your playlist, restart the Smart IPTV app and the channels will be displayed.

To activate your Smart IPTV app go to https://siptv.app/activation/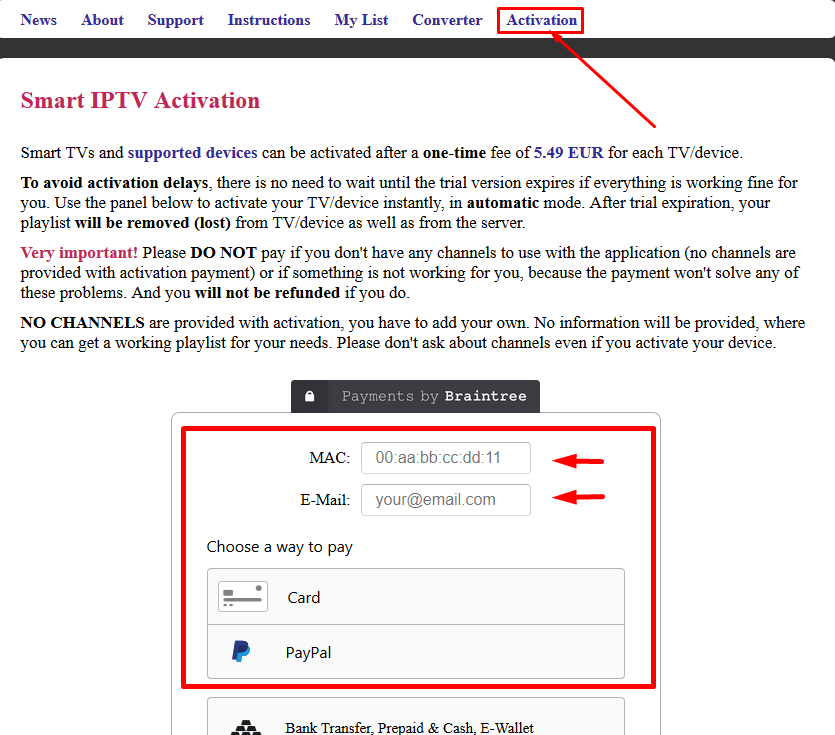 If you have some problems you can try to rest the playlist, just fill in the MAC address and press delete and re-upload your playlist.
Or you can try to click on the keep online part.
Force manually reload of your playlist:
On Samsung TV >>> Press the blue button >>> then zero
On Android >>> hold OK >>> then press ok
On LG TV >>> Press the blue button >>> then zero or red (up to the TV Model)
Manually Installation Guide:
Tizen TVs (J/K/M/N/R): Extract (unzip) the contents of the following Tizen Widget file to the root of the USB drive and insert it to your TV's USB slot. Make sure the userwidget directory is located in the root of your USB drive. The application will appear on My Apps screen among other apps...

iptv.community


Enjoy.
Last edited by a moderator: